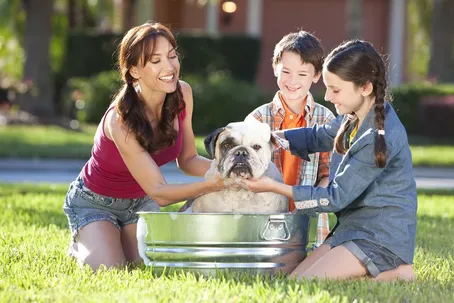 Cimarron Pet Salon's services for all breeds include the following:

Bathing
Drying
Grooming
Cologne
Bows or bandanas upon request

We offer nail trimming and cleaning of ears as part of every package.
***Please be aware that for the safety of your pet, we will not force these things if a pet is too stressed.***
Nail trimming is also offered on a walk in basis.
Spa packages
We offer many spa packages to enhance your pet's grooming experience and make them feel refreshed and smell great! These packages may include paw pad treatments, tear stain removal, breath freshening, nail filing and aromatherapy. Ask about our spa packages today!
Furmination
We also offer a Furminating package for our shedding and thick coated breeds. This package includes a Furminating shampoo and conditioning solution. After the bath we will use a furminating tool to remove as much loose hair as possible.
Package specials
We also offer care package specials. These packages are a weekly or biweekly grooming for your pet at a discounted price. Please ask your groomer about this special to keep your pet in great shape.
For pricing and availability click here for our contact information.