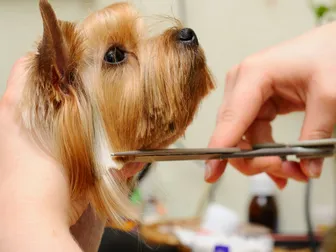 With almost 35 years of combined grooming experience, Cimarron Pet Salon is a name you can trust.
Locally owned and operated you can be assured that your pet is always being taken care of in the best possible manner.
Our specialties include geriatric pets, Poodles, Bichons, Schnauzers, and terrier breeds. We also take great care in starting puppies on the path to a good grooming experience.
All of our groomers have been trained in all breed hair styles and can help you find the right look for your pet.
If you are happy with your pet's grooming, you may request the same stylist for every future visit. Some dogs are more comfortable when the same person is able to build and maintain a trusting relationship with your pet.